FILM & PEOPLE
DATABASE
Film Directory
Film Directory
My Ghost Girlfriend (2015)
< Sol-lo-tal-chul-gwi >
After serving his military duty, Jung-hoon, who has never had a girlfriend, returns to college. He has a secret crush on Eun-ji, a member of the school's paranormal activity research club called Mysteria, in which he also belongs. One day, Jung-hoon meets Ji-sun, a virgin ghost, by chance, and Ji-sun asks him for help with her Scare tests, the exams that she needs to pass in order to be reborn. In return, Jung-hoon makes an arrangement with Ji-sun to help him score poin...
more
| | | | |
| --- | --- | --- | --- |
| Genre | Animation | Production Status | |
| Running Time | 84min | Release Date | - |
| Country | South Korea | Rating | 12 |
| Language | | Co-Production | N |
| Original | | | |
Box Office
Contact Point
M-Line Distribution | sales@mline-distribution.com
Related Photos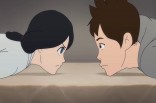 Any copying, republication or redistribution of KOFIC's content is prohibited without prior consent of KOFIC
Director & Producer
Production & Sales Company
Related News
THE BACCHUS LADY Premieres in Panorama Section With a mix of festival titles, Korean Academy of Film Arts productions and genres spanning period drama, animation and more, M-Line Distribution has brought a comprehensive lineup of Korean cinema to the European Film Market (EFM) in Berlin this year. Leading their slate is E J-yong's latest film The Bacchus Lady, a KAFA production featuring YOUN Yuh...