FILM & PEOPLE
DATABASE
Film Directory
Film Directory
Final Recipe (2014)
< Fa-i-neol Re-si-pi >
Hao's only hope is that his grandson Mark enters a prestigious university but Mark's dream is to follow his grandfather's footsteps and become a chef and take over the restaurant. Due to Hao's difficult personality, the restaurant is on the verge of bankruptcy and he finally collapses. In order to save the restaurant, Mark enters a cooking contest without his grandfather's knowledge and consent in Shanghai. He competes against talented chefs from Japan, Korea and Australia, a...
more
| | | | |
| --- | --- | --- | --- |
| Genre | Drama | Production Status | |
| Running Time | 97min | Release Date | - |
| Country | South Korea, China, Thailand, Singapore | Rating | |
| Language | Chinese | Co-Production | Y |
| Original | | | |
Contact Point
CJ ENM | filmsales@cj.net
Related Photos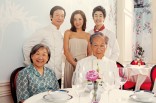 Any copying, republication or redistribution of KOFIC's content is prohibited without prior consent of KOFIC
Director & Producer
Production & Sales Company
Cast
Related News
Henry, an actor and K-pop singer in boy band Super Junior – M, attended the Shanghai International Film Festival (SIFF) to present Chinese film Journey. Korean wave star Henry made his screen debut with Gina KIM's culinary drama Final Recipe (2014) co-starring Michelle YEOH. He has seen his share of success in many variety shows and music albums, and he is now making his second movie appearance in...

US entertainment trade magazine Variety selects every year the ten best educators in film schools all over the world, and Gina KIM, a tenured professor at the UCLA School of Theater, Film and Television, was included in this year's list. In total, Variety selected 10 filmmakers including Affonso Beato, director of photography, for its feature about Entertainment Education, and whose feature credit...

Gina KIM's new virtual reality short film Bloodless continued its awards run after picking up the Best VR Film Award at the recently concluded Bogota International Film Festival, as reported by the film's production company Crayon Films. KIM's latest is a 12-minute film that examines the last moments of a sex worker's life. Bloodless is based on an infamous murder case that took place in the US ar...
Related Kofic News
attended by more than 600 Korean and international film professionals On February 10th (local time), 'Korean Film Night' was held during the 64th Berlin International Film Festival. Sponsored by the Korean Film Council(KOFIC, Chairman KIM Eui-suk) and the Busan International Film Festival(BIFF) with the support of Korean Cultural Center in Germany, more than 600 Korean and international film profe...
Awards and Invitation
Febiofest - Prague International Film Festival (2015) - Culinary Cinema - Appetite for Film

LA Asian Pacific Film Festival (2014) - Festival Galas

HIFF Spring Showcase (2014) - Spotlight on Korea

Los Angeles Asian Pacific Film Festival (2014) - Festival Galas

Berlin International Film Festival (2014) - Culinary Cinema

Seattle International Film Festival (2014) - Asian Crossroads

San Sebastian International Film Festival (2013) - Culinary Section

Hawaii International Film Festival (2013) - Opening Night Film