FILM & PEOPLE
DATABASE
Film Directory
Film Directory
Dear Pyongyang (2006)
< Di-eo Pyeong-yang >
| | | | |
| --- | --- | --- | --- |
| Genre | Documentary | Production Status | Released |
| Running Time | 107min | Release Date | Nov 23, 2006 |
| Country | Japan | Rating | 12 |
| Language | Korean | Co-Production | N |
| Original | | | |
Box Office
Contact Point
Related Photos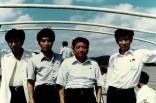 Any copying, republication or redistribution of KOFIC's content is prohibited without prior consent of KOFIC
Director & Producer
Production & Sales Company
Related News
Korean Documentaries on Show at Prestigious Japanese Documentary Film Festival**사진 캡션** Soup and IdeologyThis year's edition of the Yamagata International Documentary Film Festival (YIDFF), one of the top documentary film events in the world, has invited a pair of Korean non-fiction works to take part in the upcoming event, which will open its doors in October. Featuring in the International Compe...

To be held between June 6th and 8th under the theme of 'Ups and Downs of Korean Peninsula' The Toronto Korean Film Festival, a culture event established by young Koreans in Canada to make Korean culture widely known, started collecting short films for the competition section. Any short film directed by Korean with the length of 15 minutes or shorter or a content about Korea will be accepted. Sub...

"Most of them actually happened" YANG Yong-hi, the second generation of a North Korean family in Japan, and who previously directed documentaries Dear Pyongyang and Goodbe, Pyongyang, came to Korean and attended the GV for Our Homeland. The film, starring the director and actor of Breathless, YANG Ik-june, is based on the actual events that happened in her life. The director YANG said, "I could...
Awards and Invitation
Mar del Plata International Film Festival (2007) - Documentary Frame

Sundance Film Festival (2006) - World Cinema Competition

- Ciritic's Award