FILM & PEOPLE
DATABASE
Film Directory
Film Directory
A professor of logic and metaphysics, Jeon hyuk, got news from a detective agency that they found his wife in Jindo. He is on his way to find her, leaving his lecture and everything else behind. The man from the detective agency said that his wife is turning into a possessed shaman in Kasa Island which is incomprehensible to him. In this miserable situation, he decided to get her back and on the way strange accidents started to occur. At some point, he realizes he is dead and...
more
| | | | |
| --- | --- | --- | --- |
| Genre | Mystery | Production Status | Released |
| Running Time | 98min | Release Date | Jan 31, 2013 |
| Country | South Korea | Rating | 15 |
| Language | Korean | Co-Production | N |
| Original | | | |
Box Office
Contact Point
Mirovision Inc. | sales@mirovision.com
Related Photos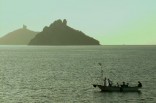 Any copying, republication or redistribution of KOFIC's content is prohibited without prior consent of KOFIC
Director & Producer
CHOI Sung-won

- Executive Producer
Production & Sales Company
Cast
Staff
CHOI Sung-won - Producer,Director of Photography,Executive Producer

HONG SUK-BONG - Electrician

Han su min - Assistant of Make-up Designer

JI Myoung-goo - VFX Artist

JI-HYEON SEO - Generator

JO Seong-min - Generator

KANG Bong-sung - Sound

KIM Sun-bin - Script Editor

LEE Gang-hee - Editor

LEE Hyun-ju - Production Design

LEE Jong-won - VFX Supervisor

MyoungJae Jo - VFX Artist

OH Su jin - Music Director

PARK Hong-min - DI,Screenwriter,Script Editor

SEOK Keun-Hye - Sound Effect

SON Jung-won - Electrician

SONG Soo-duk - Sound
Related News
The Dragons & Tigers section of the Vancouver International Film Festival returns in 2016 under the new name Gateway with 25 features, including a quintet of works from South Korean filmmakers. Frequent VIFF invitee HONG Sang-soo once again appears on the program with Yourself and Yours, the auteur's 20th feature which debuted at the Toronto International Film Festival and picked up the Best D...

Tony Rayns Curates 'Korea on the Verge: Social Faultlines in Korean Cinema' Program For its 63rd edition, which kicked on June 8th, the Sydney International Film Festival is staging a 'Korea on the Verge: Social Faultlines in Korean Cinema' program, curated by guest programmer Tony Rayns, the London-based Asian film expert and programmer for the Vancouver International Film Festival. The spotligh...

IFFR Takes Busan Trio and latest from HONG sang-soo, Jogko ANWAR Five independent Korean films, three of which had their world premieres at the 20th Busan International Film Festival last October (though all five screened there), are set to have bows as part of the lineup of the 45th International Film Festival Rotterdam (IFFR), which will take place from January 27th to February 7th. Hailing f...
Awards and Invitation
Sydney Film Festival (2016) - Korea on the Verge: Social Faultlines in Korean Cinema

London Korean Film Festival (2016) - Indie Firepower

Geneva International Film Festival (2016)

Vancouver International Film Festival (2012) - Dragons & Tigers

Warsaw International Film Festival (2012) - Special Screenings

International Film Festival of Asian-Pacific Countries in Vladivostok (2012)

CPH:PIX (2012)

Toronto Reel Asian International Film Festival (2012) - INTERNATIONAL FEATURES

International Film Festival Rotterdam (2012) - Tiger Awards Competition

Munich International Festival of Film Schools (2011)

Busan International Film Festival : BIFF (2011) - Korean Cinema Today- Vision