FILM & PEOPLE
DATABASE
Film Directory
Film Directory
Mother And A Guest (1961)
< Sa-rang-bang Son-nim-gwa Eo-meo-ni >
Ok-hee lives with her grandmother (Han, Eun-jin), mother (Choi, Eun-hee) and a housekeeper (Do, Geum-bong) in a house known as the 'widow house'. It got its name since all three women in the house are widows. One day, Mr. Han, a friend of Ok-hee's uncle, comes to stay as a boarder and Ok-hee who had never met her father before becomes quite fond of the man. Eventually, Ok-hee's mother and Mr. Han secretly fall in love with one another and Ok-hee becomes a secret messenger bet...
more
| | | | |
| --- | --- | --- | --- |
| Genre | Drama, Romance | Production Status | |
| Running Time | 103min | Release Date | - |
| Country | South Korea | Rating | |
| Language | | Co-Production | N |
| Original | | | |
Box Office
Related Photos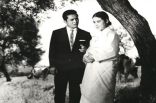 Any copying, republication or redistribution of KOFIC's content is prohibited without prior consent of KOFIC
Director & Producer
Cast
Related News
The inaugural edition of the Gangneung International Film Festival (GIFF) kicked off on the northeastern coast of South Korea on November 8. The new event, which is run by Festival Chairman KIM Dong-ho, a former chairman of the Busan International Film Festival, and artistic director KIM Hong-jun, opened its first edition with the world premiere of the new Korean family drama A Little Princess, wi...

The 43rd Hong Kong International Film Festival (HKIFF) has partnered with the Korean Film Council (KOFIC - Chairman, OH Seok Geun) to celebrate the 100-year anniversary of Korean films this year with a special "Centenary of Korean Cinema" program, which will include ten classic and contemporary Korean titles. In addition, various masterclasses, introductions and post-screening talks will b...

Legendary actress CHOI Eun-hee passed away on April 16 at the age of 91 following complications stemming from a chronic disease. She was known as a screen siren of Korean cinema in the 1960s and was famously abducted in the 1970s, along with her husband, director SHIN Sang-ok, and forced to make films in North Korea. CHOI began her acting career in 1947 and was known as part of the famed 'troika' ...
Awards and Invitation
Hong Kong International Film Festival (2019) - Centenary of Korean Cinema

Seoul Barrier Free Film Festival : SeBaFF (2019) - Closing Film

Gangneung International Film Festival (2019)

Nantes Three Continents Film Festival (2017) - SHIN Sang-ok, The Korean Equation

Vesoul International Film Festival of Asian Cinema (2016) - South Korea: Cinema and Litterature

Muju Film Festival : MJFF (2013)